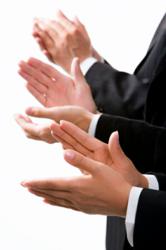 Eden Prairie, MN (PRWEB) November 28, 2012
Those in front of a group or audience are judged on how they present. Whether it's reporting progress, leading a meeting to solve a problem or providing information – judgment occurs on how well organized the presentation and process are – and by how well it is executed.
The three root fears of all public speakers are: fear of making a mistake, fear of forgetting and fear of looking foolish. Now here's a tongue twister to help overcome these three root fears. Proper preparation and practice prevent poor performance.
Bob Pike, the CEO of The Bob Pike Group, was once given this advice early in his career: An excellent presentation of the facts and arguments supporting a mediocre analysis is more likely to be approved than a mediocre presentation supporting a first-class analysis.
Preparation may be as much as 80 percent of the main contributing factor for success in presenting. Most of the success happens long before the speaker gets up in front of the group. Proper preparation generally leads to polished presentations.
The football coach at one large public university is paid nearly three times what the university president is paid. Obviously people are much more willing to pay to be entertained than educated! So use that to an advantage and convey the information in such a way as to grab the interest of the listeners.
One way to start preparations for a presentation is to use a hook. A hook pulls someone into the presentation right away like a shocking statistic, such as the difference between salaries, or a surprising quote like the advice Bob Pike was given.
An anchor is the way the speaker chooses to close the presentation. Two effective methods to tie the content together and have a coherent close are to use a rhetorical question or end as it began. Paul Harvey would often begin a story, but then leave listeners at a cliffhanger as he went on to cover other news and ads. He would then return to complete the "rest of the story" as his anchor.
And practice does not make perfect, like the old saying goes. Only perfect practice makes perfect. Practice makes permanent. So make sure to practice in the right way. When a speaker is confident that they are well prepared, much of the anxiety — or those root fears — will melt away.
This content was adapted from The Bob Pike Group's Business Presentation Skills workshop which is intended for supervisors and managers who want to improve their presentation results. The Business Presentation Skills workshop is a three day participant-centered workshop that focuses on the fundamentals of organizing and delivering high impact presentations, including body language, voice, gestures, and delivery style of adult learning. There is tremendous emphasis on application, practice, and video as well as self and peer feedback.
"My biggest insight to the Business Presentation Skills course was seeing the difference in my presentation from the first day to the last day. The new techniques made a big improvement in my set up focusing on what is important. Also, involving my audience with interaction techniques will keep them engaged and motivated! stated George Williams from Pep Boys.
Bob Pike will be teaching his next workshop December 3, 2012 in Phoenix, Arizona.
About The Bob Pike Group
The Bob Pike Group has provided train the trainer workshops and consulting services to individuals and corporations for more than 30 years. Bob Pike is the pioneer of the participant-centered training method and has a well-earned reputation as the trainers trainer. More than 125,000 people have gone through his Creative Training Techniques Boot Camp and more than 200,000 copies of his Creative Training Techniques