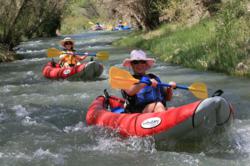 Sedona, AZ (PRWEB) July 02, 2012
Sedona Adventure Tours at the Verde River Adventure Center renowned for their fun-filled and adventurous Verde River Rafting tours near Camp Verde and Cottonwood, Arizona, also offer adventures that include experiences such as Verde Valley Wine tasting tours, horseback riding, and more.
Delivering unforgettable outdoor fun and family friendly adventure in the breathtaking scenery of Sedona and the Verde River Valley, Sedona Adventure Tours offers many exciting half-day and full-day adventure options. Some of these combinations include cruising down the Verde River in a Tube, while others may include travel in a Ducky Kayak, an inflatable kayak that is comfortable, unbelievably stable, easy to paddle and just plain fun!
Now, during Tubing Madness and Ducky Madness, many families opt for the Do-It-Yourself Verde River Adventure. Sedona Adventure Tours provides Ducky Kayak and Tube Rentals at the Verde River Adventure Center with all of the necessary gear for memorable fun in the sun.
"Parents love our tours. There is no greater family fun than spending the day floating down the Verde River, one of the area's best hidden secrets. If you are looking for something fun to do with the kids and want to get out of the heat, spending time on the water is affordable entertainment at its best," says owner Richard Lynch, and lucky local residents can enjoy half price rentals of Ducky Kayaks and Tubes every Sunday this summer!
Sedona Adventure Tours also teams up with local Verde River Valley Wineries and the famous M Diamond Ranch to offer tours that combine their famous Verde River Trips with Wine Tasting Tours and Horseback Riding. The Water to Wine Tour, is a one hour ride in the comfort of a Ducky Kayak that transports river travelers downstream to wine tasting at the Alcantara Vineyards, and the Saddle to Paddle Tour that adds horseback riding to the day are an adventurers dream come true.
The popular Paddle to Pints Tour returns river kayakers to the Verde River Adventure Center for a refreshing beer and a leisurely shuttle cruise to the casual, intimate setting of the Rendezvous Restaurant in Old Town Cottonwood. Located at Gateway to Old Town Cottonwood, the newest, hippest scene in the area, The Rendezvous features an eclectic menu and over twenty micro brews and twenty-five wines from Arizona and around the world.
The Verde River, Arizonas only wild and scenic river system, is perfect for family vacations, romantic weekends, girlfriend getaways, and spiritual journeys. Choose a perfect experience from the many options offered at http://www.sedonaadventuretours.com by the only company permitted to take tourists and locals down the beautiful, scenic Verde River. Call 877.673.3661 or 928-204-6440 for information and tour reservations.
About Sedona Adventure Tours: Sedona Adventure Tours offers exciting, and safe guided trips down the Verde River and is the only company permitted to offer this unique Verde River experience. Located at the Verde River Adventure Center in Old Town Camp Verde.