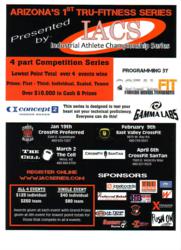 Chandler, AZ (PRWEB) February 12, 2013
The Industrial Athlete Championship Series is a one-of-a-kind fitness series competition that derives its challenges through the combination of CrossFit and SEALFIT programming. Join us for the third (of four) 2013 IAC Series events on Saturday, March 2nd at The Cell Gym in Mesa, Arizona. Test your heart, strength, endurance and overall mental toughness. Test individual limits and push into the uncomfortable in order to grow.
IAC is a four-part series that allows all levels of competitors to compete and challenge themselves in this monthly point-based Championship program. Not to be mistaken for a hyper-technical CrossFit only event, all athletes are welcome to participate and test themselves against the unknown.